1977
Posted September 27th, 2013 by kevster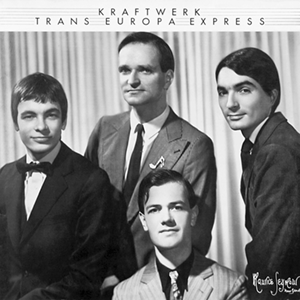 Although Autobahn was a left-field masterpiece, Trans-Europe Express is often cited as perhaps the archetypal (and most accessible) Kraftwerk album. Melodic themes are repeated often and occasionally interwoven over deliberate, chugging beats, sometimes with manipulated vocals; the effect is mechanical yet hypnotic.
The song "Trans-Europe Express" (featured here) is similar in concept to "Autobahn," as it mimics the swaying motion and insistent drive of a cross-continent train trip.
Overall, Trans-Europe Express offers the best blend of minimalism, mechanized rhythms, and crafted, catchy melodies in the group's catalog; henceforth, their music would take on more danceable qualities only hinted at here (although the title cut provided the basis for Afrika Bambaataa's enormously important dancefloor smash "Planet Rock").
Posted January 3rd, 2008 by aidan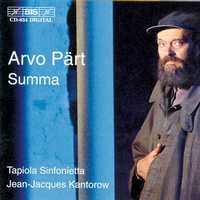 Not writing about classical much I'm not sure how to credit it. Really, the Tapiola Sinfonietta conducted by Jean-Jacques Kantorow are covering Arvo Pärt here. Performed by a different artist this work could sound quite different. Anywho, it's a lovely addition to my collection.
Rather mathematical - there's actually a full rundown of the formula for Fratres. It's a fantastic piece. Close to a lot of this electronica stuff in it's construction - subtly changing looped patterns. Kind of dark and menacing but not exactly, not exactly dissonant either but somehow teetering on the edge of something. Maybe it uses those twisted ninth intervals that Trent Reznor is so keen on. Sure is a nice thing to sit down and close your eyes to.