1971
Posted April 20th, 2010 by kevster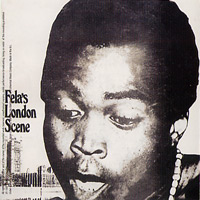 In 1971, Fela Anikulapo Kuti's record company (EMI) agreed to finance a recording date in London for Fela and his band. Now huge stars in Nigeria, this trip was, in a way, a triumphant return to the country that had provided Fela with a musical education and the club scene where he cut his proverbial bandleader's teeth.
What is important to note is that he had become good friends with former Cream (and at the time of this recording current Blind Faith) drummer Ginger Baker, who had traveled to Lagos a year earlier to meet, hang out, and play with Fela. Baker shows up on this recording (albeit uncredited) on the track "Egbe Mio," but more importantly helped get Fela gigs all over the city at such venerable venues as the 100 Club, the Cue Club, and the Four Aces.
Recording at Abbey Road, Fela cut these five awesome tracks in which his Afrobeat sound is more complex and jazzy than on the '69 Los Angeles Sessions. At over 7 minutes "J'ehin J'ehin" cuts a wicked groove for its entire length pushed by the horn section and Tony Allen's superlative drumming. "Buy Africa" is a anti-colonial rant worthy of the Last Poets, and "Fight to Finish" very simply kicks out the jams.
A stunning record that marks the beginning of Fela's best period of recording.
Posted July 6th, 2007 by aidan
Before Vengelis was famous for such classics as the Blade Runner Theme he helped to put together one of the classic prog-rock concept albums. I guess this is probably what made him famous in the first place.
The whole thing is based on The Book of Revelation. I'd heard The Four Horsemen on a mix cd some time ago - man, it's a hot track.
A couple of other things jumped out on first listen. Have I heard The Seventh Seal and Seven Bowls sampled by Enigma? Maybe not sampled but it sounds mighty familiar.
I haven't attacked the second disc yet but I'm told it's a hard listen. We'll see.
Posted June 19th, 2007 by aidan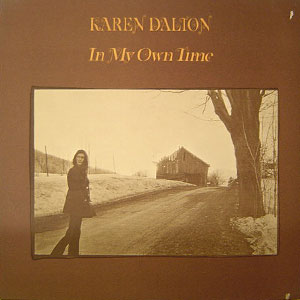 Random tip from a random site discovered whilst digging around for Kiki Bohemia related material. This is very much a Rodriguez moment for me - another under-promoted great. From what I can gather this has been a record collectors (notoriously hard to obtain) favourite for years, now made accessible to the masses via a recent reissue (though I'll be going out of my way to get hold of an original copy).
God, what a voice. Billie Holiday-esk I suppose, incredible texture. Something On Your Mind and In a Station are well up on my list of picks of the moment.
Katie Cruel blows me away - is this the original? I also have covers by White Magic and Bert Jansch collected along the way that I absolutely adore. Either way it's simply a beautiful song.
Apparently Bob Dylan and Nick Cave are both huge fans of her work. In the end she died destitute after drug addiction in the states (in Take Me I think she says "it would be like heroin to me")... hell of an injustice.