Adult
Posted October 3rd, 2013 by kevster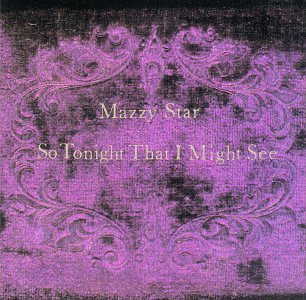 Thanks to the fluke hit "Fade Into You" -- one of the better beneficiaries of alt-rock's radio prominence in the early '90s, a gentle descent of a lead melody accompanied by piano, a steady beat, and above all else, Hope Sandoval's lovely lead vocal -- Mazzy Star's second album became something of a commercial success. All without changing much at all from where the band was before -- David Roback oversaw all the production, the core emphasis remained a nexus point between country, folk, psych, and classic rock all shrouded in mystery, and Sandoval's trademark drowsy drawl remained swathed in echo.
If there's a left-field standout, then unquestionably it's "Five String Serenade" (featured here). A cover of an Arthur Lee song -- for once not a Love-era number, but a then-recent effort -- Roback's delicate acoustic guitar effortlessly brings out its simple beauty. Tambourine and violin add just enough to the arrangement here and there, and Sandoval's calm singing makes for the icing on the cake.
Posted April 28th, 2010 by kevster
Richard Hawley has always shown a penchant for writing deeply evocative and emotional songs about places, people, and situations. His first couple of recordings, especially 'Lowedges', reflected his obsession with lushly orchestrated pop songs and a production style that extended a song far beyond its margins and into the listener's world with a near visual sensibility.
On 'Truelove's Gutter', Hawley has dug the well much deeper and brought forth a spring of new ideas in his singing, writing, and production, but paradoxically, has done so with less.
The album is more sparse than anything he's released. Its eight songs have a decidedly late-night feel. The grand sweeping orchestral strings of his last two albums have been replaced by a chamber section and odd instrumentation that add real intimacy to the proceedings.
These songs reflect his own experiences, or the trials and tribulations of friends. His gorgeous melodies shine through brighter in songs that are nakedly tender and unflinching yet are musically more sophisticated, adding to their depth of field.
"Open Up Your Door" (featured here) would be just a pop song were it not for lyrical concerns underscored by the only orchestral arrangement on the set: it's a plea for reconciliation by a husband who confesses and owns his shortcomings, while professing his all-consuming love for his spouse in the wake of a dispute as strings swell and punctuate them in the bridge.
The melody is infectious, and Hawley's soaring baritone evokes the power of Roy Orbison's tenor.
'Truelove's Gutter' is a singular moment in Hawley's catalog that displays the maturity of all his gifts. It is quietly passionate, graceful, elegant, utterly moving, and unequivocally beautiful in its honesty and sophistication. He's realized an ambition here that is artful and singular.