1993
Posted October 3rd, 2013 by kevster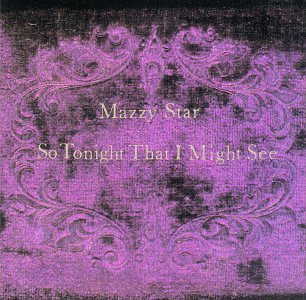 Thanks to the fluke hit "Fade Into You" -- one of the better beneficiaries of alt-rock's radio prominence in the early '90s, a gentle descent of a lead melody accompanied by piano, a steady beat, and above all else, Hope Sandoval's lovely lead vocal -- Mazzy Star's second album became something of a commercial success. All without changing much at all from where the band was before -- David Roback oversaw all the production, the core emphasis remained a nexus point between country, folk, psych, and classic rock all shrouded in mystery, and Sandoval's trademark drowsy drawl remained swathed in echo.
If there's a left-field standout, then unquestionably it's "Five String Serenade" (featured here). A cover of an Arthur Lee song -- for once not a Love-era number, but a then-recent effort -- Roback's delicate acoustic guitar effortlessly brings out its simple beauty. Tambourine and violin add just enough to the arrangement here and there, and Sandoval's calm singing makes for the icing on the cake.
Posted April 23rd, 2010 by kevster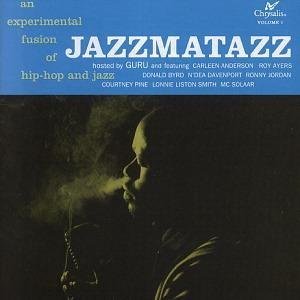 Though it can reasonably be argued that rap grew almost directly out of funk and its particular beat, there are a lot of overlaps with jazz, particularly the bop and post-bop eras: the uninhibited expression, the depiction of urban life, just to name two.
Jazz samples have also had a large role in hip-hop, but the idea of rapping over actual live jazz wasn't truly fully realized until Gang Starr MC Guru created and released the first in his Jazzmatazz series in 1993, with guest musicians who included Branford Marsalis, Donald Byrd, Roy Ayers, Ronny Jordan, and Lonnie Liston Smith.
While Guru's rhymes can occasionally be a little weak ("Think they won't harm you? Well they might/And that ain't right, but every day is like a fight" are the lines he chooses to describe kids on the subway in Brooklyn in "Transit Ride"), he delves into a variety of subject matter, from the problems of inner-city life to his own verbal prowess to self-improvement without ever sounding too repetitive, and his well-practiced flow fits well with the overall smooth, sultry, and intelligent feel of the album.
From Jordan's solo on "No Time to Play" to Ayers' vibes expertise on "Take a Look (At Yourself)", Jazzmatazz, Vol. 1 is a rap album for jazz fans and a jazz album for rap fans, skillful and smart, clean when it needs to be and gritty when that's more effective, helping to legitimize hip-hop to those who doubted it, and making for an altogether important release.
R.I.P. Guru
Posted July 4th, 2007 by aidan
It's always dangerous revisiting an album that you fell in love with when you were much younger. Luckily for me Sepultura still kick ass. I would love to have seen these guys live (with Max of course).
Unlike many other metal bands, they've always had good reasons to be angry, and it shows in the music. The whole album is very political, Kaiowas is a touching interlude about Brazilian tribe that committed mass suicide in protest of the government trying to take their land.
The music itself has a lot of room to breath - the guitars don't suffocate the mix. Igor's drumming is beautifully tribal. I'm pretty sure this will forever be considered one of the classic metal albums.