The Cinematic Orchestra - Ma Fleur
Posted May 28th, 2007 by aidan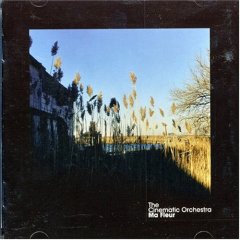 Ma Fleur is a beautiful album to be sure, but don't buy it with the expectation that you'll be hearing more of The Cinematic Orchestra you used to know and love. Gone are the hyped up jazz rhythms, sweet softly spoken melodies seem to have held a coup during The Cinematic Orchestra's absence.
It's all very ambient and mellow. In fact, there a only a few tracks that actually have a beat at all. As The Stars Fall is probably the most traditionally Cinematic song on the album, though Breathe - which features Fontella Bass familiar to us from Everyday's All That You Give - isn't too far behind and it's an exceptionally lovely piece of music too.
I can't fault the album really, other than to say it's not like anything they've done before - like that was ever a bad thing.